Congratulations to Tyler Hardy – President of the O'Leary Recreational Club!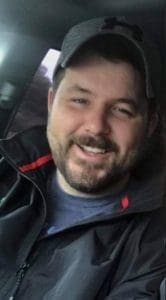 Here are some quotes from the nominations submitted for Tyler:
He's putting his ALL into getting Club #7 up and running.

He's a very hard worker and very determined to get the job done.

He realized that these trails were part of a missing link in the ATV world on PEI and that this was an important sport for his area!

He has gone above and beyond in forming a group, attending other club's monthly meetings to gain more knowledge, researching the sport, doing all the proper paperwork, speaking to landowners, and spending countless hours on trail work.

All day, everyday always dedicated to the club and puts his heart and soul into it each day!
 It's not easy to start a new club from the ground up, but obviously Tyler's doing a great job that's appreciated by many!
Thanks to all who have made a nomination and make sure to get your nomination in for May! (All current nominations will be carried forward to future months in addition to new nominations received.)